AN ICON
Bells were tolled in cities across the US and rang out 39 times – one for each of Dr. Luther's years on Thursday, to mark the moment 50 years ago that civil rights leader Martin Luther King was gunned down by a white supremacist in Memphis, Tennessee. People gathered across the country and worldwide to honor the civil right icon.
On Tuesday night at Memphis' Mason Temple Church of God in Christ, where he gave a speech the night before he was killed, Dr King's daughter the Reverend Bernice King spoke about the difficulty of publicly grieving her father. On Wednesday evening's Memphis event, one his sons, Martin Luther King III, said dramatic progress had been made in race relations, but America was nowhere near where it needed to be.
She told the audience: "One day we'll all be able to join with Martin King and say 'Free at last, free at last, thank God almighty we are all free at last'".
Performers, activists, and faith leaders took to the stage and individuals gathered it was a form of re-commitment to nonviolent social change. One pastor told the crowd that this commemoration is not about yesterday or about sentimental dreams of the future, that today was about the present struggles. Carrying on King's work, continuing his legacy has been the theme of the day with the central question, where do we go from here?
Also on Wednesday evening, in his hometown of Atlanta, a wreath was laid at his crypt. Hundreds of people also gathered in Washington, DC for a silent prayer walk on Wednesday from the MLK Memorial, which was erected in 2011, to the National Mall.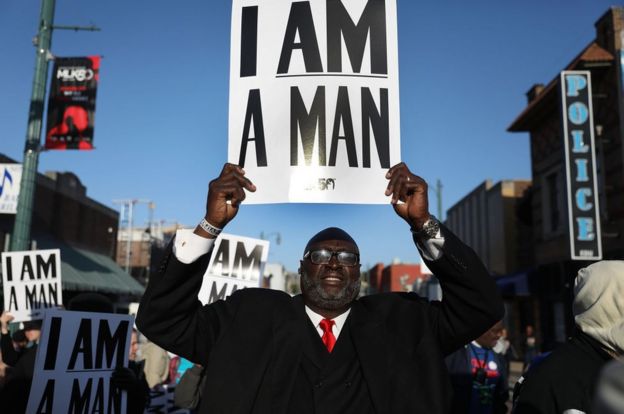 Here are some of his quotes.
Darkness cannot drive out darkness; only light can do that. Hate cannot drive out hate; only love can do that.
Free at last, Free at last, Thank God almighty we are free at last.
If you can't fly then run, if you can't run then walk, if you can't walk then crawl, but whatever you do you have to keep moving forward.
Injustice anywhere is a threat to justice everywhere.
Our lives begin to end the day we become silent about things that matter.
The time is always right to do what is right.
I have decided to stick with love. Hate is too great a burden to bear.
The ultimate measure of a man is not where he stands in moments of comfort and convenience, but where he stands at times of challenge and controversy.
In the end, we will remember not the words of our enemies, but the silence of our friends.
Life's most persistent and urgent question is, 'What are you doing for others?